Migrating from Hydra V1​
danger
This guide is intended for owners of a Hydra ModMail V1 instance, who are currently in the process of migrating to V2.
Just bought a V2 instance instead? Check out our getting started guide here!
Whilst most settings on Hydra Modmail V2 are similar, there are a few notable differences which will need to be resolved to get V2 up and running in your server!
Category Permissions​
As of Hydra ModMail V2, we have switched how thread permissions operate. To give more reliable performance, and thanks in part to many changes to the Discord API, permissions are now automatically pulled and synced with your ModMail category.
It is essential that you add permissions to your ModMail category, ensuring that you have denied @everyone permissions to view channels. There is automatic protections which will block new tickets from being created within Hydra ModMail V2 to prevent all of your servers users from reading open ModMail tickets if permissions are not properly configured.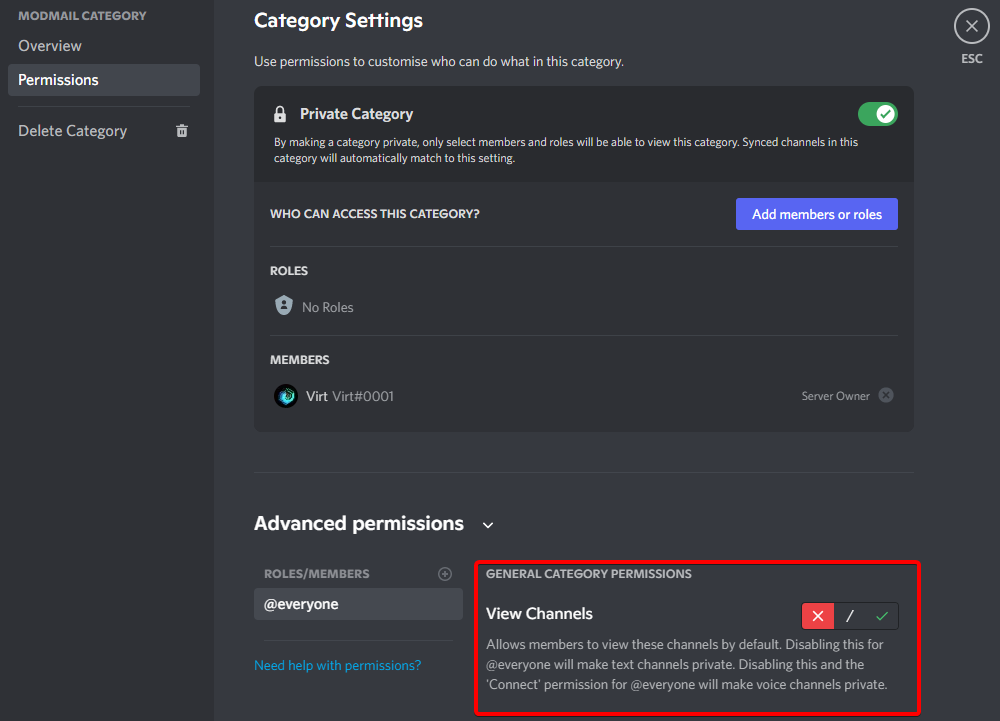 Role Permissions​
Hydra ModMail V2 also features a more customisable and versatile permissions system, for granting roles access to open, reply to and close threads. You can see a full guide on how the new permission system works here!
Congratulations!​
After you've completed both of these steps, you should be ready to use Hydra ModMail V2 and explore it's new feature set and greatly improved performance!
tip
Encounter any issues when following this migration guide? Feel free to ask within our support server!