Canned Response Guide​
Hydra ModMail features canned responses, these nifty preset messages allow you and your server to increase productivity. This guide will walk you through how to create and use them!
Creating Canned Responses​
Creating a canned response is easy, just follow the following command m/canned add <Canned Name> <Canned Content>, as seen in the example below.

Using Canned Responses​
You can only use canned responses within open threads, to use them you need to use !!<Canned Name> as seen in the example thread below. You can also anonymously send canned respones using !!!<Canned Name>, this will hide your name from their DMs.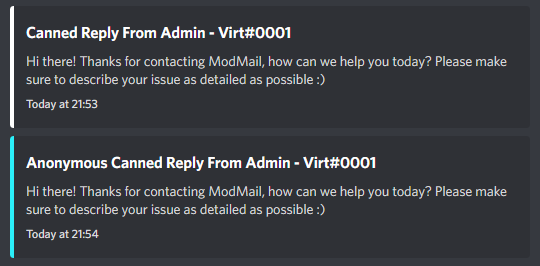 tip
Want to change your canned prefixes from defaults of !! and !!!? Check out our prefix configuration guide here!
Editing Canned Responses​
Made a mistake? You can edit set canned responses at any time using m/canned edit <Canned Name> <New Canned Content>. This will override any content that the canned message had before, replacing it with the new canned content.

Deleting Canned Responses​
You can delete added canned responses using m/canned delete <Canned Name>, this cannot be reversed without re-adding the entire response! You can see an example of this command being used below.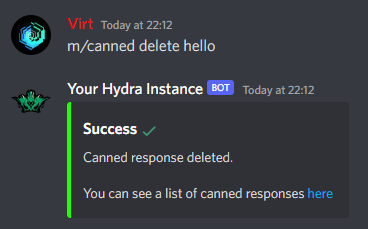 Listing Canned Responses​
To see a full list of your instances canned responses, you can run m/canned, within the embed you will see a link to your instances canned dashboard, surrounded in red on the example below.
Following this link will lead you to your canned dashboard, as seen below. This contains all of your canned responses, as well as their responses.