Basic Guide​
This page will go over Drunk o'Bot's "mention" commands, all of these commands require a user to be pinged when using the commands, for example, d!slap [@User].
tip
Throughout this page, the default prefix of d! will be used. Want to change your prefix? Check out our prefix guide here!
info
As of Drunk o'Bot V2, Drunk o'Bot will no longer actually ping the user on the bots reply!
Bean Command​
Had to urge to throw some beans at someone? With the power of Drunk o'Bot, your wish can come into reality by using the following command d!bean <@User>!

Flirt Command​
Want to flirt with another user? You can use d!flirt <@User> to show your affection to your favourite person.

Simp Command​
Want to calculate your simping compatiblity score with another user? You can use d!flirt <@User> and Drunk o'Bot will run the numbers for you, as seen in the example below.


Cookies!​
You can reward a friend by giving them a virtual cookie with d!givecookie <@User>! Please note, that only chocolate chip cookies are able to gifted currently, this is due to stock shortages.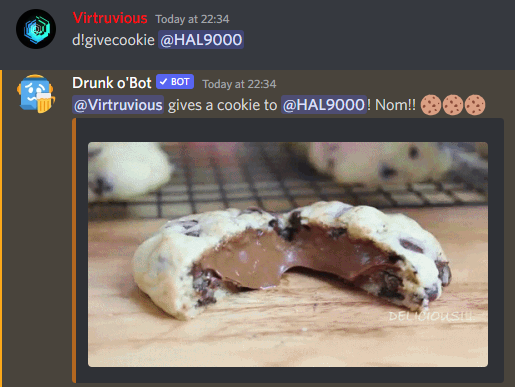 Hug Command​
You can now your favourite companion with the hug command! Simply use d!hug <@User> as seen below.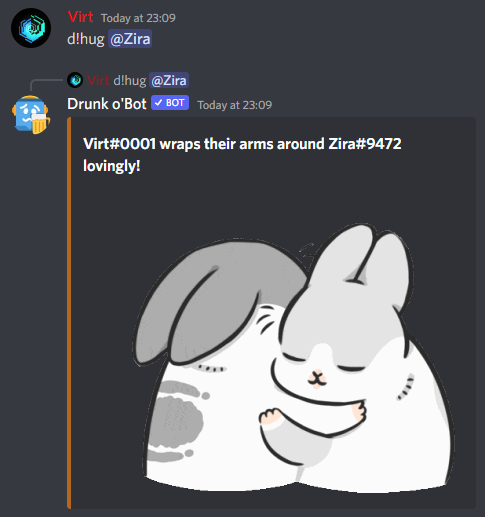 Punch Command​
Now you can express your anger in a not-so-recommended way, with the d!punch <@User> command! Though, results may not go as planned.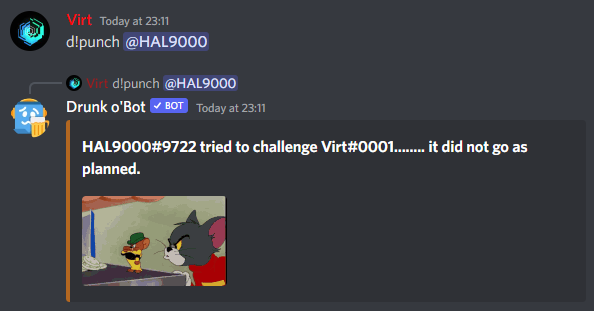 Kiss Command​
Ever wanted to express your affection? Using the d!kiss <@User> command makes it easy!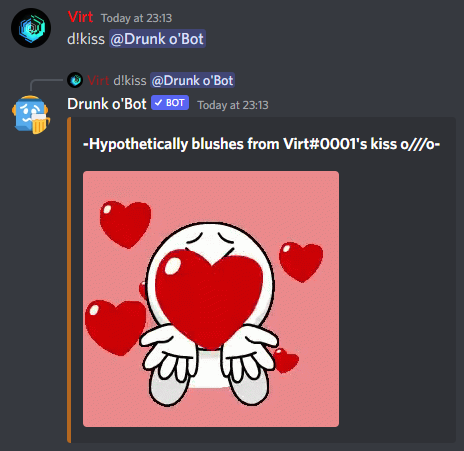 Bonk Command​
You can now express your disapproval via the d!bonk <@User> command. Please note, Geese are not included.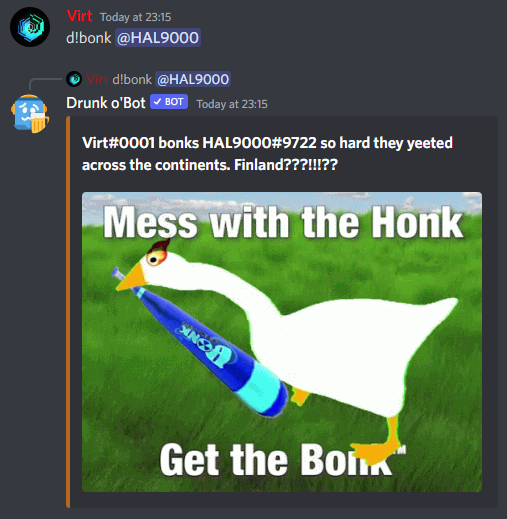 Lick Command​
You can now lick another person using d!lick <@User>, we'll just try not to judge...

"Moderation" Commands​
danger
Drunk o'Bot will not actually warn/kick/ban users. These commands are purely for fun and simply imitate real moderation commands. Looking for a strong and full featured moderation bot? Check out HepBoat here!
Warning a User​
Found a troublemaker? You can try and warn them by using d!warn <@User> and Drunk o'Bot will try their best to punish the individual!

Kicking a User​
Want to try and kick a user from your server? You can try asking Drunk o'Bot with the d!kick <@User> but as seen below... results may vary.

Banning a User​
Has someone lead you to the end of your rope? You can banish them from your server using d!ban <@User>, though relying on Drunk o'Bot to complete the task is optimistic...