Getting Started With Drunk o'Bot
Notice
Experience any problems with Drunk o'Bot while following this documentation? Join our Support Server and use the #other-support channel and we will help you out from there!
Thanks for looking into using Drunk o'Bot, this page will kickstart you with the basics of using Drunk o'Bot!
Inviting Drunk o'Bot​
Notice
To invite Drunk o'Bot to your server, you will need the Manage Server permission, for full functionality, Drunk o'Bot may require additional permissions but this will be explained within the guide.
You can invite Drunk o'Bot with this link, you will see the following options.
Make sure to select your server from the dropdown list, and click Continue, you will now see a page like the one below.

Ensuring that all of the permissions are ticked, you can now press Authorise and Drunk o'Bot will join your selected server!
Warning
If you do not want a Managed Role on your server, you may untick the options above, despite this please make sure it has all of the above permissions within your server from another role, to ensure that Drunk o'Bot can function correctly.
Additional Information​
Changing Drunk o'Bot's Prefix​
Drunk o'Bot's default prefix is d!, but this can be changed! If you use the d!prefix set <New Prefix> command, as seen below. Alternatively, if you do not know the currently set prefix, you can also mention Drunk o'Bot in place of using a prefix.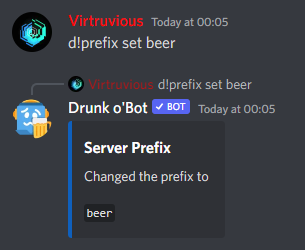 Help Command​
Unsure on how a specific command works or what it does? You can use d!help <Command Name> and Drunk o'Bot will respond with the command's correct function and usage, as well as any aliases that exist of that commmand.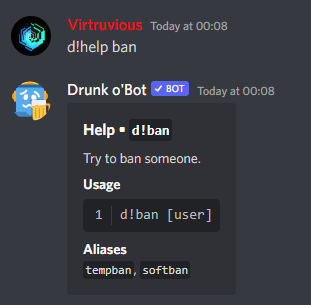 Running the d!help command by itself will allow you to navigate through each page will buttons, listing every command that Drunk o'Bot has to offer!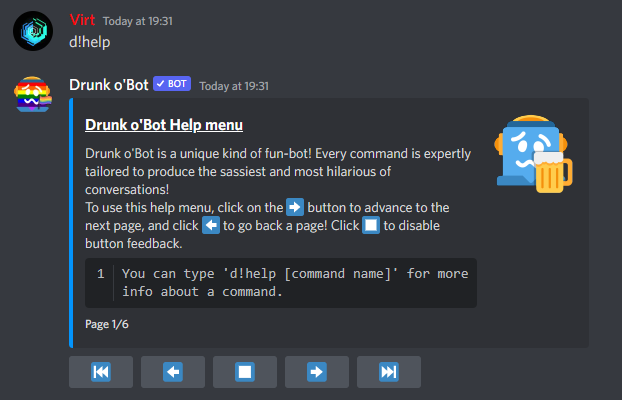 caution
Any beers missing from your minifridge after inviting Drunk o'Bot to your server, is entirely and purely coincidental and we are not held nor liable or responsible.