Basic Guide​
Drunk o'Bot features a variety of fun commands that you can use in your server, all of them will be explained below!
tip
Throughout this page, the default prefix of d! will be used. Want to change your prefix? Check out our prefix guide here!
Fortune Cookie​
Want to know what's to come? You can open a fortune cookie with Drunk o'Bot using the d!fortune command , Drunk o'Bot will then respond with your fortune!

Topic Command​
The topic command is intended to respark life into a channel that is losing its momentum. When you use d!topic, Drunk o'Bot will send a random topic (usually in the form of a question) for people to respond to, you can see an example of this below.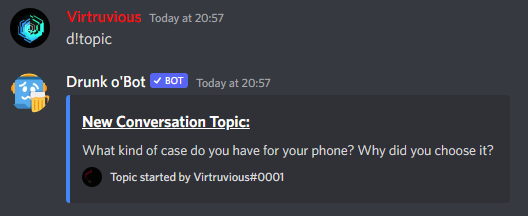 Wisdom Command​
Is it wisdom that you seek? Fear no more, you can simply use d!wisdom and Drunk o'Bot will provide you with all of the answers that you didn't know that you needed.
Joke Command​
Need a spice of comedy in your channel? No worries, Drunk o'Bot can dispense one of it's beer related jokes when you using the d!joke command!

Asking Drunk o'Bot​
Need a question to be answered? You can always try to ask Drunk o'Bot for it's final verdict on your pondering thoughts using the d!ask [Question] command.

caution
Due to the drunk nature of the bot, results may vary when asking questions to Drunk o'Bot, maybe it's best to flip a coin.