Getting Started​
Drunk o'Bot 2.0 features a brand new economy system where you can buy all sorts of goodies!
tip
Throughout this page, the default prefix of d! will be used. Want to change your prefix? Check out our prefix guide here!
Making Your Profile​
Before you can get started using Drunk o'Bot's economy, you first need to make your profile. You can create your profile using d!makeprofile, once you hit Create, your profile will be made.

tip
Want to delete your profile and any data we store that is associcated with it? You can use d!clearprofile. This action cannot be undone!

Viewing Profiles​
Once your profile is created, you can view your profile, or another users profile using the d!profile [User] command. This will display your own, or another users (if specified) title, customisable bio, amount of BoozeCoin and Badges!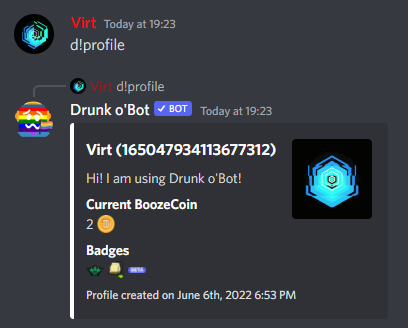 Customising Your Bio​
You can customise your profiles bio with d!set bio <Bio Text>, as seen in the example below.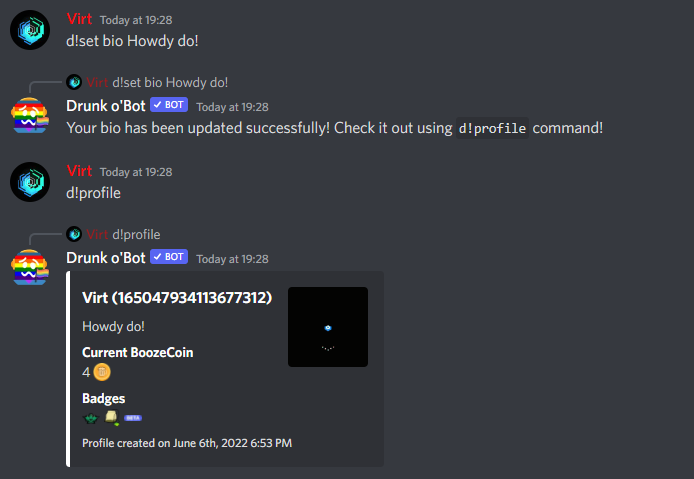 Earning BoozeCoin​
BoozeCoin is the virtual currency that is used by Drunk o'Bot, you can earn it, spend it and even gamble it!
Daily​
You can earn between 1-5 BoozeCoin daily when running the d!daily command, this is the easiest and simplest of earning BoozeCoin.
Slots​
A more risky approach to earning BoozeCoin is using the slots! Using d!slot will spend 1 BoozeCoin, and if you're lucky, you can earn up to 5 BoozeCoin!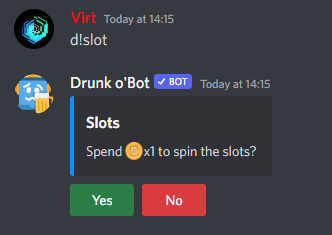 Spending BoozeCoin​
Store​
You can spend BoozeCoin within the Store, to purchase badges, titles, and more! To access the store, you can run d!store and use the navigation buttons to switch between categories.
To purchase items from the store you need to use d!buy <Category> <Item ID>. You can see an example of how to use the command to purchase a badge below, happy spending!


Similarily, if you wanted to purchase a title from the Drunk o'Bot Store, you can use the following command.

For titles, you need to set them using the d!set command, once you own a title, a dropdown list will appear when this command is run to allow you to select which title you would like to equip onto your profile.

Leaderboards​
You can use the leaderboard commands to see who the richest user or server is by who has the most BoozeCoin is globally or locally on your current server!
tip
Want to shorten leaderboard commands? You can use d!lb instead of d!leaderboard!
Global Leaderboard​
Using d!leaderboard by itself as seen below will default to the global leaderboard for BoozeCoin, marvel at their wealth!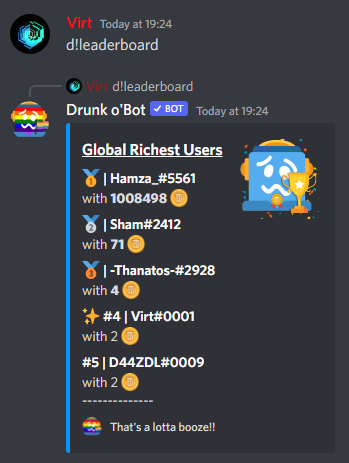 Server Leaderboard​
The server leaderboard allows individual servers to compete against each other! It totals the amount of BoozeCoin from all of the server's users and displays it as seen below. You can view the server leaderboard using d!leaderboard servers.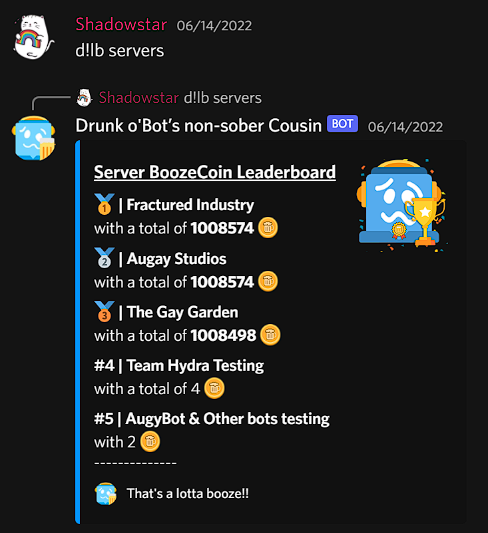 Local Leaderboard​
However, if you specify local by running d!leaderboard local, Drunk o'Bot will only display the leaderboard for the server of which you ran the command in.